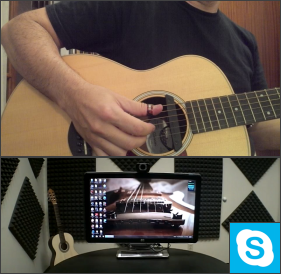 Skype lessons
are great, long distances aren't a problem any more!
All you need is a computer/tablet/smartphone, a guitar, internet connection, and a special interest in learning the kind of guitar playing and stuff you can find in my videos.
As part of the lesson you'll also get tabs and audio files.
Most of the lessons are slow note-for-note TUTORIALS for learning how to play the songs from the videos.
So i hope we can meet each other soon!!
Email me if you wanna try it:

or send me a private message at:
https://www.facebook.com/diegoruizguitarra/
(once we schedule the lesson, i'll send you the payment link by e-mail)
All the best,
/Diego